Are you looking for a quick, easy, and delicious meal for a busy weeknight? Look no further than paneer masala with rajma and rice. This classic Punjabi dish features kidney beans in a spicy cheese curry served over fluffy rice. Whether you're a vegetarian or simply looking for a flavorful meatless meal, paneer with rajma and rice is sure to satisfy your cravings.
What is Paneer Masala?
Paneer masala is a rich and flavorful cheese curry that is popular in Indian cuisine. Indulge in the rich flavors of Paneer Masala, made with Indian cheese simmered in a tomato-based sauce and aromatic spices like cumin and coriander. The result is a creamy, savory dish that is both satisfying and delicious.
What are Rajma?
Rajma are kidney beans that are a staple in Indian cuisine.Vegetarian dishes often utilize rajma as they provide a great source of protein, fiber, and other essential nutrients. Punjabi cuisine commonly incorporates rajma as a key ingredient in dishes such as paneer masala with rajma and rice.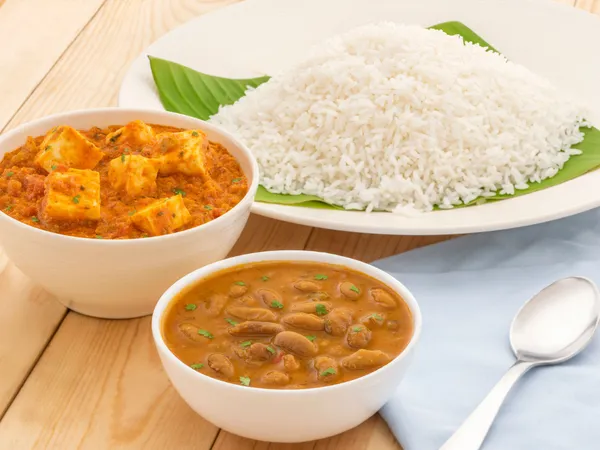 What Makes Paneer Masala with Rajma and Rice a Great Meal for Busy Weeknights?
Paneer masala with rajma and rice is an excellent meal option for busy weeknights for several reasons:
Quick and easy to make – Paneer with rajma and rice can be prepared in under 30 minutes, making it a perfect choice for a quick and easy dinner.
This meal is filling and satisfying. It combines protein-packed rajma and rich, creamy paneer masala over fluffy rice, keeping you full for hours.
Vegetarian – If you're looking for a vegetarian meal option, paneer with rajma and rice is an excellent choice. It's a great way to incorporate more plant-based foods into your diet without sacrificing flavor or satisfaction.
How to Order Paneer Masala with Rajma and Rice
If you're interested in trying paneer with rajma and rice, there are a few ways to get started. Many Indian restaurants offer this dish on their menu, so you can simply place an order for takeout or delivery. If you prefer to cook at home, there are many recipes available online that will guide you through the process of making this delicious dish from scratch.
If you're looking for more easy and delicious meal options like paneer with rajma and rice, consider subscribing to home meal plans with EatFit.in. Our meal plans are designed to help you eat healthy and delicious food without sacrificing convenience or taste. Sign up today to start enjoying tasty, nutritious meals delivered right to your doorstep.