Introduction
Street food is an important part of Indian culture and cuisine, and pav bhaji is one of the most popular street foods enjoyed by millions of people across India. Pav bhaji is a delicious combination of mashed vegetables and spices, served with soft bread rolls, called pav. In this blog, we will explore the history, ingredients, and recipe of this mouth-watering street food.
History of Pav Bhaji:
Pav bhaji originated in the streets of Mumbai in the 1850s when street vendors started selling it to textile mill workers as a quick lunch option. The dish gained popularity among the masses due to its affordability and delicious taste. Today, pav bhaji is a staple street food in most Indian cities and towns.
Ingredients of Pav Bhaji:
The basic ingredients of pav bhaji are mashed vegetables such as potatoes, tomatoes, peas, onions, and capsicum, mixed with a blend of spices such as cumin, coriander, turmeric, red chili powder, and garam masala. Other ingredients such as butter, garlic, and ginger add to the flavor of the dish. The dish is served with a generous amount of chopped coriander and a slice of lemon.
Recipe of Pav Bhaji:
To make pav bhaji, start by boiling the vegetables until they are soft and then mash them with a potato masher. Heat butter in a pan and add chopped onions, ginger, and garlic. Once the onions turn translucent, add chopped tomatoes and cook until they are soft. Add the mashed vegetables and mix well. Add the spice mix and cook for a few minutes until the bhaji thickens. Toast the pav on a tawa (griddle) with a little butter. Serve the pav bhaji with the toasted pav, chopped coriander, and a slice of lemon.
Variations of Pav Bhaji: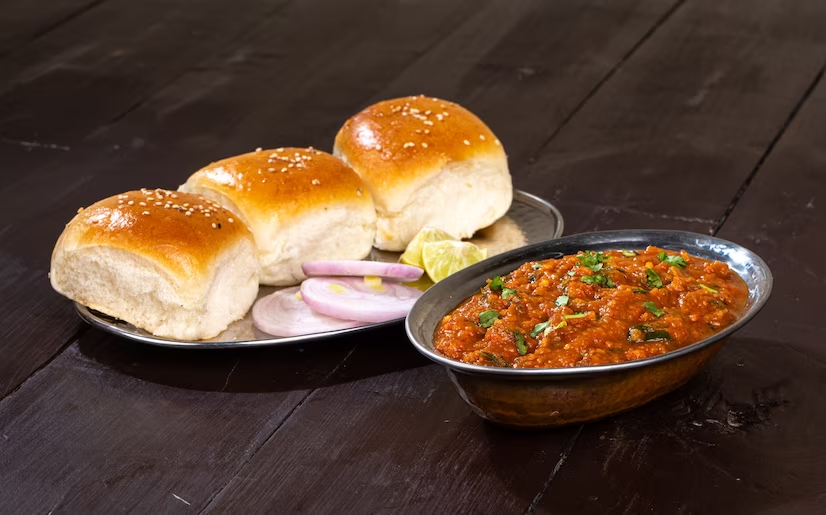 Pav bhaji is a versatile dish, and there are several variations of it across India. Some popular variations include cheese pav bhaji, paneer pav bhaji, mushroom pav bhaji, and Jain pav bhaji (made without onion and garlic). Some street vendors also add a dollop of butter on top of the bhaji, making it even more flavorful.
Health Benefits of Pav Bhaji:
While pav bhaji is considered an indulgent street food, it does have some health benefits. The dish is packed with essential nutrients from the vegetables such as vitamins, minerals, and fiber. The spices used in the dish are also known to have several health benefits, such as anti-inflammatory and anti-bacterial properties.
Also read: The Perfect Side Dishes to Pair with Chicken Pav Bhaji
Conclusion:
In conclusion, pav bhaji is a popular and delicious street food that has become a part of Indian culinary culture. The dish has a rich history and is enjoyed by millions of people across the country. Whether it's the classic version or one of its many variations, pav bhaji is a must-try street food for anyone visiting India. So, the next time you are in India, head to a street vendor and try out this mouth-watering delicacy!